Top of Page
News Releases
Newsletter archive
Postponed FFF was to host several world premieres
06-04-2021
The international Future Forces Exhibition was to be a venue for the presentation of the latest defence & security technologies and solutions. Several world premieres were to be unveiled within the FUTURE FORCES FORUM. The RESCUE TRAILER from the Czech company Sorsya was to be one of those.
The exhibition, expert panels and networking within the FFF has been postponed due to the ongoing pandemic situation and governmental measures. The Future Forces Exhibition and parallel expert panels has been a long-time hub for networking of military, security, industry or R&D community. Manufacturers regularly present the latest development to a wide international audience in Prague.
One of the expected world premieres of this year's FFF was to be the special folding trailer – RESCUE TRAILER from the Czech company Sorsya. It is a unique and technologically advanced solution for logistics and rescue operations in military or civil use.
Variable Use
RESCUE TRAILER is adapted for maximum variability of the interior design and wide potential for use. The supporting frame is completely independent of the trailer body and thus the system offers the possibility of mounting any structure according to the user's needs. At the same time, the design is simple for servicing and maintenance. This is one of the reasons that the RESCUE TRAILER can be used for diverse military and civilian deployments. The manufacturer envisages use in logistical, rescue and law enforcement operations where buses or trucks are commonly used. In comparison to these common solutions, the trailer has significantly lower procurement and maintenance costs. The trailer can be used to increase transport capacity for immediate emergency evacuation of the population or property and equipment transport. The safe transport of both persons and material is ensured by a perimeter structure, which can also be fitted with ballistic protection.
The folding design allows fast and cheap transport of the RESCUE TRAILERS to the deployment site in a composite state by air or semi-trailer. No special accessories are needed for handling, the trailer has its own chassis with the possibility of moving even in a folded state.
Unique Technical Solution
The unique patented design and chassis solution allows to fold the RESCUE TRAILER to the size of a standard NATO pallet to minimise the space needed for transport or storage. The chassis has an adjustable drawbar that ensures to connect it to any vehicle. The suspension is hidden inside the supporting frame and is thus protected against damage. Combined with 33-inch off-road tyres, it guarantees smooth passage even in challenging off-road conditions while providing high ride comfort and stability through independent suspension.
Basic Technical Data
Homologation up to 3,5 t (carrying capacity up to 7 t)
Independent suspension and central supporting frame
Axle lift 20 cm
Seating capacity for 18 people or standing capacity for 35 people
Individual trailer body and equipment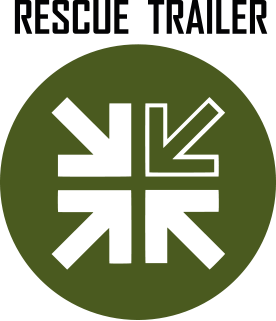 More information is available at www.rescuetrailer.cz